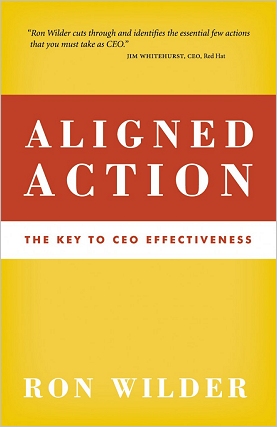 Aligned Action: The Key to CEO Effectiveness focuses on the critical question that each CEO must wrestle with as a company grows and changes:
"What should I be working on right now?"
Short and to the point, it immediately illuminates where you should focus your time and energy as CEO.
As your company grows, you'll consult this book frequently to guide your work and determine where to focus right now.
Based on Ron Wilder's fifteen years of experience working closely with CEOs in a wide range of industries, this is an essential resource and field guide for every CEO.
What People Are Saying About The Book
"Ron Wilder cuts through and identifies the essential few actions that you must take as CEO."
Jim Whitehurst, CEO, Red Hat
"Ron Wilder is a powerful leadership coach and now one of America's most important new business writers. This book is fresh gold in the hands of any CEO."
Steve Chandler, Author of Time Warrior
"Ron Wilder has you quickly identify the biggest opportunities for improvement in sales and profitability – by getting focused on the real root causes of high performance.  Read it and take action – you will see results."
Joel Davis, CEO, Synergy Engineering
"Wilder's book is the CEO's pocket genie – consult it when you need help on what to do!   He takes the intuitive work of the CEO and names it, describes it, makes it explicit, and lays it out for you in a way that guides you to work effectively on the most critical issues."
Dawn Averitt Bridge, Founder and Chair, The Well Project
"One of the biggest challenges for high-potential leaders is making the transition from a functional leader to a general manager – where the P&L rolls up to you.   Ron's book provides a great framework for the CEO – the person who must bring everything together into an aligned system of high performance."
Cindy Dauss, Learning and Leadership Development, F500 Financial Institution
"Thoroughly enjoyable and thought-stimulating.  Wilder's book really illuminates the key to CEO effectiveness."
Bill Lewis, CEO, Arysta Life Science North America
PURCHASE NOW (Paperback or Kindle) at Amazon